Arlys Hawkes, former co-owner of two Jefferson County newspapers, dies at 89
May 1, 2023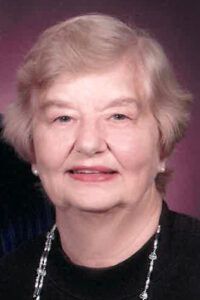 JULIA HUNTER
Wisconsin Newspaper Association
Arlys Jean Hawkes, who previously owned two Jefferson County newspapers with her husband, died on March 9, 2023. She was 89.
Born on Nov. 5, 1933, to Guy and Mildred (Rasmusson) Hamann in Menomonie, she graduated from Menomonie High School in 1951 and UW-Stout in 1955 with a degree in dietetics and home economics. She married Dennis L. Hawkes on Oct. 15, 1954, at Our Savior Lutheran Church in Menomonie. Following the completion of her husband's service in the U.S. Navy, the couple moved to Madison, Wisconsin, where she was employed by the Malt and Barley Lab at the University of Wisconsin.
In 1965, they purchased the Lake Mills Leader and Leader Printing Company, and in 1979, they purchased the Cambridge News. Arlys worked full-time and remained active in the business until the newspapers were sold in 1999.
Arlys was a member of Trinity Lutheran Church, its senior choir and Rachael Rebecca Circle. She was also a member of Lake Mills Chamber of Commerce, Lake Ripley Country Club, Sigma Alpha Sorority and the Wisconsin Newspaper Association.