Adams Publishing Group (APG) implements ProImage NewsWayX across all its 15 production sites
Apr 13, 2023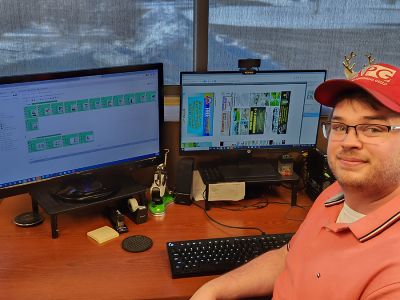 PRINCETON, New Jersey – How do you efficiently manage the workflow of 200+ publications, including 30 dailies and hundreds of commercial products across 15 production facilities? This was the question the Adams Publishing Group management team was asking when looking for a streamlined, cost-reducing workflow solution that would also improve quality and reduce onsite hardware.
Adams Publishing Group (APG), a family-owned community newspaper company, was launched in 2013 and strongly believes in the critical function community newspapers fulfill in their local communities. For its many dailies across 19 U.S. states, it was crucial to implement a production management system that would be easy to use, cloud-based, provide cost savings through automation, deliver ink optimization, and have the ability to output from a 'hub' structure.
ProImage and its suite of next-generation newspaper and magazine production workflow were already well known to APG through its positive industry-wide reputation. Conversations between the two companies started, and in early 2023 the implementation of ProImage NewsWayX Cloud workflow is well underway. It will replace local workflows at all 15 print sites from four different software vendors that Adams Publishing Group used. All 15 locations will use the NewsWayX Cloud workflow to provide much-desired consistency among sites and streamline their production.
NEWSWAYX - THE POWERHOUSE OF PUBLISHING IN AN EXCITINGLY EFFICIENT AND AFFORDABLE PACKAGE
NewsWayX is a proven automated workflow solution for Page & Plate Tracking, Ripping, Imposition, and Output management for printing productions.
It features a single, integrated user interface that monitors the production status, both at origination and at print sites, irrespective of location. Because it is based on HTML5, NewsWayX is fully accessible from any computer with a browser. With its easy-to-use interface, the production staff does not require lengthy software training sessions. In addition, it easily integrates with editorial and press control systems, providing one cost-effective integrated end-to-end production solution.
For APG, the feature-rich offerings of NewsWayX, such as ink optimization, automated image toning, pre-flighting and monitoring, and detailed tracking tools, were just some of the strengths and advantages of NewsWayX that led to the purchasing decision. Being able to notify operators of a system error and keeping track of all pages and plates generated for each site was another key advantage that led to selecting ProImage. Lastly, the investment cost was very attractive, and the anticipated cost savings through automation, ink optimization, and reduction of onsite hardware made this a justifiable investment decision.
SIMPLIFYING COMPLEX WORKFLOW REDUCES COST AND TIME
It was important for APG to significantly reduce costs and simplify and streamline the complex processes usually associated with running productions across multiple production facilities in 19 states. Being able to do that and only needing a standard browser while reducing the onsite hardware previously required on each site, plus the upkeep of such, was another major reason NewsWayX was the perfect solution. Further, it allows APG to use personnel assets across their production facilities in a hub-based format since some production personnel will be given access to output to multiple facilities' CTP devices.
"We believe NewsWayX not only enables us to automate and provide both our internal and external customers a proven workflow but also one that will grow as APG continues to grow," Doug Wilson, vice president of production said. "The Cloud based system and our ability to create standardization, centralize some operations while bringing savings was very attractive."
APG is expecting significant cost and time savings by being able to output to multiple locations from anywhere and eliminate hands-on processes due to the use of the web portal. Since the implementation process is currently underway, it is still early, APG has already seen an improvement in color off-press in their early test runs.
In addition, centralizing the workflow in the cloud will result in a reduction in support contract costs due to the elimination of multiple workflows currently in place, as well as the elimination of upkeep and replacements of onsite hardware.
SEAMLESS INTEGRATION
NewsWayX seamlessly integrates with software components within any enterprise to provide additional value in production. Other components belonging to ProImage or third-party providers appear to the user as additional workflow steps in the system. For APG, NewsWayX will integrate with Editorial, CTP devices, proofing software, and CIP3 for ink presets for certain press control systems. APG will also upgrade their CTP spoolers across all production facilities that will receive files directly from the cloud.
PROFESSIONALISM, SUPPORT VITAL COMPONENTS OF SUCCESS
With any large-scale project across multiple locations and facilities, smooth and efficient implementation and training are crucial for the success of such. This not only starts at the installation but already when discussing and scaling the project with sales. As Ryan M. Pruse, Operations Director for Adams Publishing Company, states: "Professionalism and support have been top-notch since the day we began talking about this project." It is too early to provide a full testimonial since the project is in the early launch stage, but to quote Mr. Pruse again: "For now, I can only speak to the support we've received during the initial launch, which has been excellent."
ABOUT ADAMS PUBLISHING GROUP (APG)
Adams Publishing Group (APG) is, first and foremost, a family-owned community newspaper company. It was launched in late 2013 by Mark Adams with support from his family. Mark Adams, CEO of APG, is also the quarterback for the company's acquisition activities while also serving on its board of directors. Since its first acquisition in March 2014, APG has grown quickly, consisting of 30 dailies, over 250 non-daily, and collectively over 220 media-related products and associated websites in 19 states. Adams Publishing Group is driven to provide high-quality products and services that make a positive difference in the lives of its constituents, which are, in prioritized order: its readers, its customers/advertisers, its communities, its Associates, and its shareholders/owners.
ABOUT PROIMAGE
New ProImage, an Agfa Company is a leading developer of browser-based automated workflow, ink optimization, press registration, color image processing, and production tracking solutions for the commercial and newspaper printing and publishing industries. Using a standard Internet browser, ProImage's advanced workflow technologies offer the printing industry flexible and feature-rich end-to-end automated workflow management.