Could the Kansas police raid happen in your town?
Sep 1, 2023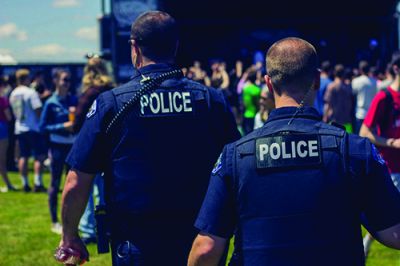 News about the apparently illegal police raid on a small Kansas newspaper raises troubling questions.
First, you might ask, could it happen in your town?
The short answer, says attorney and journalism professor Eric Robinson, is unfortunately yes.
People in power have been known to act vindictively against the media when they feel threatened.
The Marion police department told the Kansas Bureau of Investigation that the raid was justified on the grounds that the newspaper had been involved in the "illegal access and dissemination of confidential criminal justice information."
The police raid on the newspaper and its owners' home with a judge's approval raises other questions.
Was Marion Police Chief Gideon Cody acting maliciously or in fear for his own reputation?
He might have been aware, as targets of press investigations usually find out, that the Marion (Kansas) County Record was investigating why he had left the Kansas City Police Department before coming to their town.
According to the Kansas City Star, Cody faced discipline for allegedly making insulting and sexist comments to a female officer. She had a recording in which he admitted his behavior was unprofessional.
The judge who approved the search warrant might have had personal reasons of her own.
Judge Laura Viar allegedly signed the warrant because of allegations that the newspaper improperly obtained information about a local restaurant owner's past DUI conviction. At stake was her application for a restaurant liquor license.
Judge Viar has a DUI history of her own, an investigation by the Wichita Eagle found.
She had been arrested at least twice for driving under the influence in two different Kansas counties.
In 2012, she allegedly drove with a suspended license and crashed into a school building but was not sanctioned by the state's attorney discipline board.
How did she feel about the local newspaper investigating a woman restaurant owner's DUI history?
Federal law requires law enforcement to seek subpoenas rather than search warrants in going after media materials, Robinson wrote in a note to members of the South Carolina Press Association.
For a search warrant, police must convince a judge they need an immediate search for evidence of a crime.
A subpoena, Robinson wrote, notifies the target of the information sought with a deadline for submitting it. The target can then challenge the subpoena in court.
The law provides an exception when the media is the suspect in the investigation.
That was the justification Chief Cody gave.
Even more troubling is the day after the raid, the Record's co-owner Joan Meyer, 98, collapsed and died.
Her son and co-owner, the Record's editor and publisher Eric Meyer, said he felt the raid was responsible.
The police have since returned what they took, but the damage cannot be undone.
As a journalist, I have covered cops and courts for more than 60 years. In almost 40 of those years, my wife and I have owned and operated our own award-winning newspapers.
We are thankful that we never ran into a situation like this one in Kansas. Law enforcement, judges and attorneys have respected that we had a job to do and appreciated that we returned their respect.
Picking fights with people who buy ink by the barrel, an elected official once told us, is not a good idea.
Read like a writer
Sounds simple, doesn't it. You are already a writer.
But think about it.
Whenever you read (and do it daily), think like a writer.
Writing coach Susan DeFreitas advises us to make notes.
Even if we never look at the notes again, the simple act of jotting down ideas tends to fix it in our memory.
It might be a headline or a lead sentence.
It could even be the closing of a story.
I often read only the opening and closing paragraphs.
After that, I conclude I got all I might get, so why read the entire article or book.
Does this sound heretical? Not to me.
You'll never have time for all of the books you'd like to read. Don't waste time.
If an opening sentence grabs you, think about what the writer did to capture your attention.
Writers use certain techniques to lure you in, to engage and enchant you.
How did these writers get you to stay with them to the end?
Was their closing satisfying? Do you feel that it was worth reading?
You might recall my story about a fine crime reporter I once competed against.
He had been a short order cook who taught himself to write by rewriting news articles. It freed him from a life of standing over a hot grill.
Try rewriting stories others have written. Improve them,
You might recall my story about the reporter who typed the poetry of W.B. Yeats, Dylan Thomas and others.
He said it helped him capture the rhythm of their words.
He took that rhythm into his own news and feature stories.
An unpardonable trend in modern short stories is that they come to no satisfying conclusion. These writers must be unaware of it.
I made a note to never leave my readers dissatisfied.
You can do this, too. Before you write, think about your opening and closing and what comes between.
Practice writing your articles in your head.
Next: Touch your readers
Jerry Bellune is a writing coach and author of "The Art of Compelling Writing, Volume 1." Coaching your writers (and editors) takes time you might not have. An option is to order copies for them of my book, The Art of Compelling Writing, now available for $9.99 at Amazon.com