Based on industry demand, HEIDELBERG introduces press maintenance training courses
May 16, 2023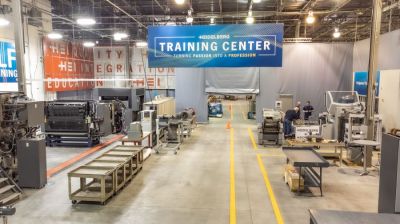 KENNESAW, Georgia – After a successful start-up of its comprehensive operator training programs, HEIDELBERG USA has introduced two new courses designed to turn its customers into "first responders" when it comes to mechanical and electrical maintenance issues on press. HEIDELBERG cites industry demand for the courses that stems from years of unavailable press maintenance and repair training at technical schools. HEIDELBERG's new certified trainings will teach technicians how to assess, fix, and avoid press problems to prevent unnecessary downtime.
Currently available for the Speedmaster XL 105/106 and 145/162, HEIDELBERG's Sheetfed Mechanical Maintenance and Sheetfed Electrical Maintenance courses are multi-phase training programs offered in the company's Print Media Performance & Training Center (PMPTC) located at its North American headquarters in Kennesaw, Georgia.
Depending on the course, participants will develop a baseline understanding of the multiple mechanical and mechatronic systems or electrical control systems throughout the press. Each course lasts five days and will have a maximum of six participants to ensure proper comprehensive training.
Level 1 trainings are designed to introduce the basics of mechanical and electrical training while Level 2 is designed to turn participants into "first responders" to address press maintenance issues.
"We've been asked by our customers about how they can better develop their workforce," Mike Koeberlein, director, Global Solution Center for HEIDELBERG USA, said. "This type of training – specific to press repair and maintenance – has been a real need across the industry for years."
By becoming a "first responder," participants will be educated on how to address certain mechanical and electrical issues before needing to call HEIDELBERG service. This approach will help printers reduce downtime waiting for a service call and/or eliminate service costs. Participants of the training will also be better equipped to speak with HEIDELBERG's Technical Help Desk about issues as they arise. While other operator training courses offered at HEIDELBERG's PMPTC are free, there is a nominal charge for the Sheetfed Mechanical & Electrical Training programs.
"We looked at the cost of a service call and the customers' downtime," Koeberlein said. "With suction head repair, for example, the best-case scenario is a part arrives to the customer, and the service tech arrives for installation next day. They've already lost 12-14 hours. If we can talk someone through the repair that's been through training, they've saved a half day of production, which is a huge return on investment."
Looking ahead, HEIDELBERG intends to offer Level 3 classes as participants complete the initial two levels. The company is also looking to add maintenance training courses for its line of press peripherals, UV presses, and potentially, smaller press sizes based on demand and availability. Private classes for larger groups of participants from the same company are available upon request.
"This isn't a 'one and done' type of thing," Koeberlein said. "We want a developmental approach for our training so people can continue to grow in their skills."
To register for available training dates, please contact your local Heidelberg Sales Representative or visit https://www.heidelberg.com/ HUS_Maintenance_Training