Through the viewfinder — first quarter 2022
Jan 1, 2022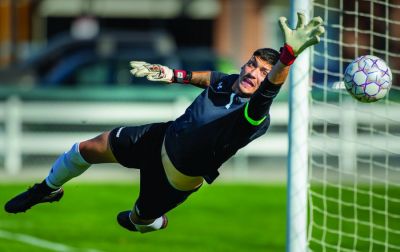 Winning photographs in the First Quarter 2022 Pub Aux Photo contest, taken from Dec. 11, 2020, to Dec. 11, 2021, captured breathtaking images.
FROM TOP
Jeremy Cox of the McPherson County Herald, Leola, South Dakota, captured quite the poetic Feature image and first place with the faces of tomorrow's leaders reflected the helmet of American Legion Color Guard member Jim Schaffer during a veteran's celebration.
Mark Davis of the Powell (Wyoming) Tribune topped both the News category and the Sports category with shots of a helicopter atop a rapidly growing wildfire and a goalkeeper fully extended mid-shot.
The first-place winners in each category receive personalized coffee mugs featuring a winning photo or a print of their photo.
See past entries and winners here: https://www.nnafoundation.org/photo-contest